About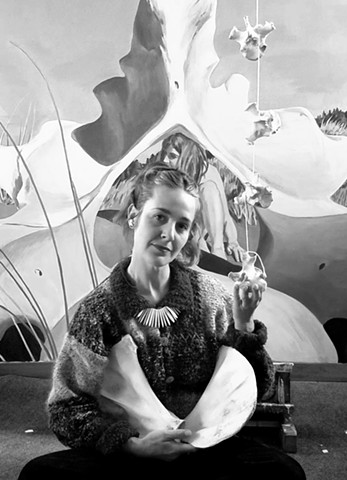 Sara Long was born and raised deep in the Redwood Forest of Northern California. As a child growing up remotely and off the grid, she lived a fairly secluded life, both figuratively and literally. She learned to commune with nature, making the birds, ferns, ancient trees, light, and fog her friends. Those relationships have stayed with her and she finds herself, decades later, painting those sacred bonds.
For over a decade, Sara has been using a very specific process to gather images that she later uses as references for paintings. Sara makes short movies of herself interacting and communing with nature. Later she will collect stills from the footage and paint from these images. This process lends her an immense amount of freedom. Using herself as a model gives her total agency. It also allows her to be as wild and free as she wants with total privacy from others. When alone in nature, this is when Sara feels the most receptive and open to the creative process.
Currently Sara lives on the rocky coast of Trinidad, California, where she spends her days painting and tidepooling with her rescue Doberman, Billie.